USM WON 2nd, 3rd AND CONSOLATION PRIZES IN PRESTIGIOUS MSSA-CIDB OPEN IDEAS COMPETITION 2019: REGIONAL AIRPORT TERMINAL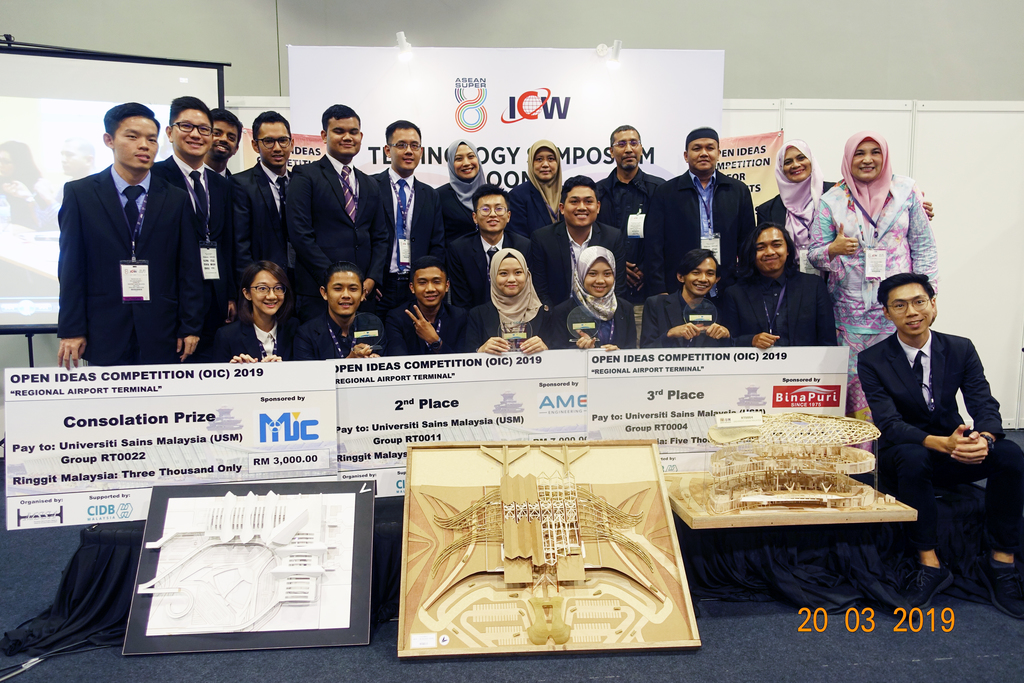 Kuala Lumpur, 20 March 2019 - USM students won RM 15,000 for the prestigious jointly organized, the Malaysian Structural Steel Association (MSSA) and Construction Industry Development Board (CIDB) Open Ideas Competition (OIC) for the year 2019 (MSSA-CIDB OIC 2019), which is the only design competition in Malaysia that combines Architectural and Civil Engineering Students for each team participated.
This year once again USM brings back the 2nd Prize (RM 7,000), 3rd Prize (RM 5,000) and consolation prize (RM 3,000) in the competition that participated by 335 students and 35 supervisors (Architecture & Civil Engineering) from twelve (12) universities all over the country. For this 12th edition of the competition with the theme 'REGIONAL AIRPORT TERMINAL', the 1 prize (RM 10,000) and consolation prize (RM 3,000) have been won by the team from Universiti Teknologi Malaysia.
In the Prize Giving Ceremony held in Malaysia, International Trade and Exhibition Centre (MITEC), Kuala Lumpur on 20 March 2019, all main prizes have been delivered by the Director General of Public Works Department Malaysia (JKR), Dato' Sri Ir. Dr. Roslan bin Md. Taha, who was also the President of Malaysian Structural Steel Association (MSSA). Besides students and supervisors, USM was also represented
The USM Team that won the 2nd Prize in this competition has been led by Azuary Asyraaf Abdullah as a Group Leader, Mohd Pirdaus Beddu, Muhammad Haikal Abdul Hamid, Nur Afiqah Azmi from HBP and Muhammad Khuzaimi Aziz with Ho Kar Meng from CE. For this group, the Architecture Supervisor is Ms. Farhana Mohd Razif and the Civil Engineering Supervisor is Assoc. Professor. Dr. Fatimah Denan.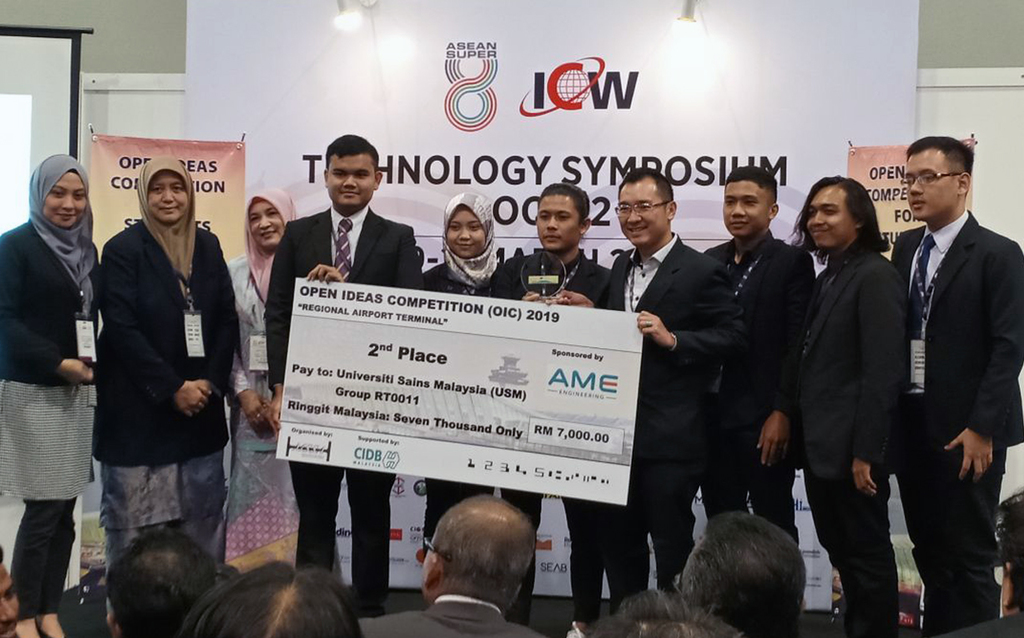 The 3rd Prize has been awarded to another USM group led by Lee Jing Yang Justin and joined by Muhamad Azwan Marzuki, Siti Khadirah Abdul Kadir, and Muhamad Hisham Zainal Aznam from HBP, as well as Lio Shu Ni and Tng Kah Lok from CE. This group is supervised by Dr. Mazran Ismail (Architecture) and Assoc. Professor. Dr. Fatimah Denan (Civil Engineering).


While the Consolation Prize is headed by Mohd Nazli Karamazaman from HBP as well as Brahmayudan Thirunavukarasu, Lee Choon Wei and Phoon Kok Kin from CE. The Architecture Supervisor for this group is Assoc. Professor. Dr. Muna Hanim Abdul Samad while its Civil Engineering Supervisor is Assoc. Professor. Dr. Fatimah Denan.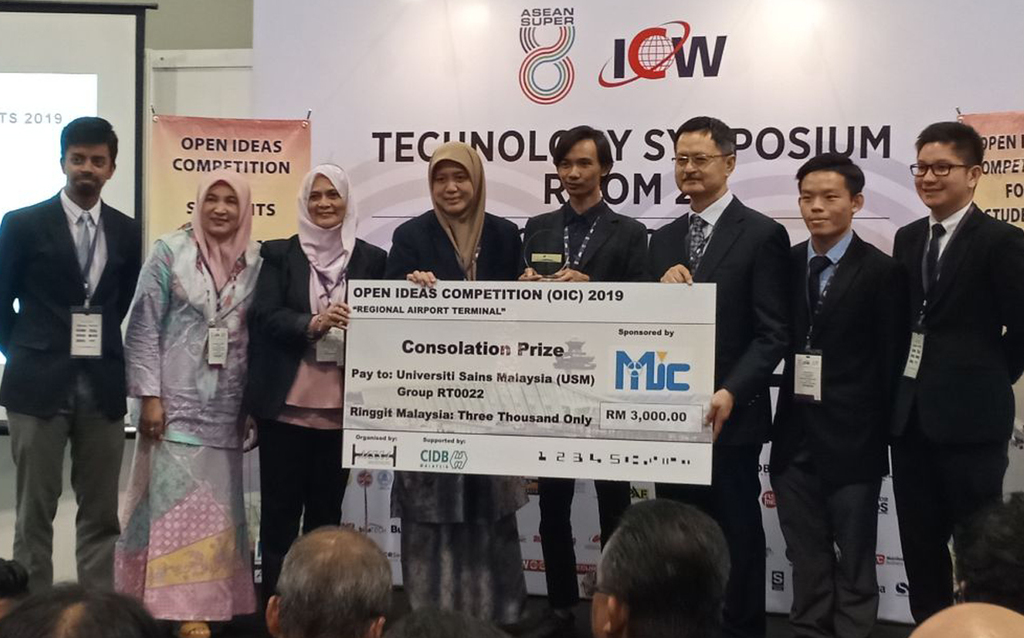 Apart from the hard work of the students and supervisors, this year's USM win is hugely contributed by strong support from both Dean of School of Housing Building and Planning and School of Civil Engineering, which are Assoc. Professor. Ir. Dr. Abdul Naser Abdul Ghani and Professor Dr. Taksiah A.Majid.


In the coming years, Assoc. Prof. Dr. Fatimah who was also USM Representative in the MSSA-CIDB OIC 2019 Organizing Committee and MSSA Education Committee hopes that strong cooperation between the School of HBP and School of CE will be maintained to ensure that USM can continually grasp the top prizes in the upcoming competition for the year 2020.
Texts / Photo : Assoc. Prof. Dr. Fatimah Denan