FULL BEM ACCREDITATION: THUMBS UP FOR ANOTHER 4 USM ENGINEERING COURSES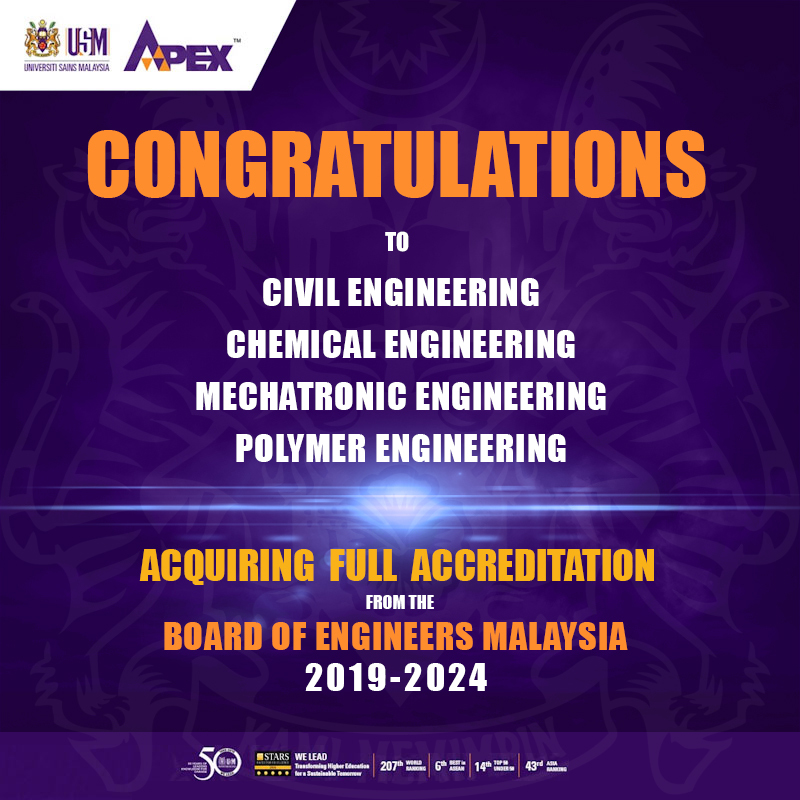 NIBONG TEBAL, 10th April 2019 - Recently, four more Engineering courses of USM had managed to obtain a full six-year accreditation of year 2019 up to 2024 from the Board of Engineers Malaysia (BEM).
The proud courses are Bachelor of Civil Engineering (Honours), Bachelor of Chemical Engineering (Honours), Bachelor of Mechatronic Engineering (Honours) and Bachelor of Polymer Engineering (Honours).
Professor Dr. Nor Azazi Zakaria, Director of Engineering Campus congratulated the respective schools on their glorious achievements, in which he described as a confidence booster to produce a greater generation that has a leading transformational quality in the field of engineering of the country.
"It is hopeful that this accreditation will continue to produce qualified engineers who are globally recognized and more competitive in their contributions to the nation's progress," he further explained.
In fact, he appreciates every collective effort and commitment shown by each school to ensure engineering@USM remains relevant and in line with the local and global industries' demand.
"Being part of the best among the best is one of our goals at this university and to be granted this honorable status clearly proves that we are fully dedicated in ensuring that our position is at par with other prominent universities," he added.
The six-year Accreditation's achievement is the verdict given by the Engineering Accreditation Council Malaysia (EAC) prior to their visit to the Engineering Campus on 14th & 15th November 2018. Earlier on, other engineering courses such as the Bachelor of Mechanical Engineering (Honours), Bachelor of Manufacturing Engineering (Honours), Bachelor of Electrical Engineering (Honours), Bachelor of Electronic Engineering (Honours), Bachelor of Material Engineering (Honours), Bachelor of Mineral Resources Engineering (Honours) were awarded a six-year accreditation status on March 21st, 2018. Meanwhile, the Bachelor of Aerospace Engineering (Honours) was given a three-year accreditation similarly.
This news also brought joy to the newly appointed Coordinator of Quality and Accreditation Division, USM Engineering Campus, Professor Dr. Azura A. Rashid who also extended her congratulatory messages to the schools involved.